Inspire Curiosity

Curiosity Inspires Creativity

This year NCTE is focusing on the theme of "Responsibility, Creativity, and the Arts of Language." At Houghton Mifflin Harcourt™, we strive to inspire responsibility, creativity, and language in our youngest to oldest learners, whether they are in Kindergarten using Journeys or preparing for college and career using Collections. Houghton Mifflin Harcourt provides innovative content, technology, and services, inspiring a lifelong love of learning.

Join #HMHLiteracy at #NCTE15 to discover our award-winning core curricula, now coupled with our proven intervention solutions, which provide the support and guidance to raise the achievement for EVERY student and inspire EVERY teacher!
Houghton Mifflin Harcourt™ and HMH® are trademarks or registered trademarks of Houghton Mifflin Harcourt.
ELA Products at NCTE
See Our World-Class ELA Products in Person
We are so excited to announce 2017 copyrights of three amazing ELA products! Stop by the HMH® booth (#635) to take a look for yourself.
With Journeys © 2017, readers are empowered by skill mastery; inspired by authentic, award-winning text; and confident that they are building the skills needed for college and careers. Backed by proven results, Journeys is the most widely-used reading program in the country. Journeys is a research-based, comprehensive English language arts program designed to provide solid instruction that is clear and focused with realistic pacing and manageable resources.

Helping you develop student abilities to analyze complex texts, determine evidence, reason critically, and communicate thoughtfully, Collections © 2017—the nation's leading ELA program for Grades 6–12—provides a multi-faceted digital and print approach that transcends the traditional anthology and resonates with today's students.

Escalate English © 2017 is a language development program for Grades 4–8 designed to help students realize their potential by rapidly increasing their language proficiency and mastery of academic English. Created specifically for students who are—or are at risk of becoming—long-term English learners, Escalate English™ provides language-rich, intellectually challenging experiences to motivate students and accelerate their growth.



We are also excited to showcase our Intervention Solutions products, including:

English 3D® is a language program designed to accelerate language skills for all academic language learners, including long-term English language learners, advanced ELL/ELD students, and community dialect speakers. Targeted instructional routines for vocabulary, writing, speaking, and listening help language learners achieve the raised expectations of the next-generation assessments and succeed in college and career.

System 44® Next Generation is a new foundational reading program for the most challenged readers in Grades 3–12+. System 44 is proven to help students master the foundational reading skills required for success with the new standards, college, and career through explicit instruction in phonics, comprehension, and writing.

Read 180®, the most effective system for raising reading achievement in Grades 4–12+, is designed to support educators while helping struggling readers meet the rigorous expectations of the new standards and experience success on the new assessments.

Common Core Code X® is an authentic English language arts curriculum that challenges students to read, think, analyze, question, cite evidence, debate, and write every day. Code X was built specifically to address the rigorous demands of the Common Core State Standards and to ensure students become deep readers and measured writers who can translate these skills into success on the next-generation assessments.
Houghton Mifflin Harcourt™, HMH®, English 3D®, System 44®, Read 180®, and Common Core Code X® are trademarks or registered trademarks of Houghton Mifflin Harcourt.
Visit Our Booth
Stop by Booth #635 for a Look at Our ELA Programs
Visit the HMH® booth (#635) to discover what's on the horizon for ELA classrooms. Experience our exciting new programs and new ways to access them.
Click the links below to see the products we will be showcasing at NCTE:
Collections
Journeys
Escalate English™
iRead®
Read 180®
System 44®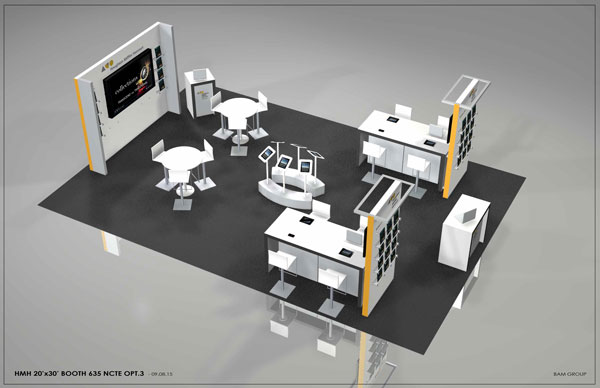 Houghton Mifflin Harcourt™, Escalate English™, iRead®, Read 180®, System 44®, and HMH® are trademarks or registered trademarks of Houghton Mifflin Harcourt.
Professional Services

From evolving standards to technology-infused classrooms and data interconnectivity, education is in the midst of a transformation that is far-reaching and moving at a rapid pace.
At Houghton Mifflin Harcourt™, we are committed to helping educators navigate this changing landscape. Combining our expertise in curriculum and technology with the best teaching and leadership practices, HMH® Education Services offers a full spectrum of solutions, including:
Leadership and transformational support at school and district levels

Data analysis and implementation offerings

Technology readiness and planning services, including implementing 1:1 learning

Professional development and training at teacher and classroom levels

Formative and summative assessment tools and services

Curriculum-specific services, including in-person and online support.
Visit booth #635 and ask about new ways to access and experience professional development from HMH®: online courses, virtual coaching, social learning communities, and more!
Houghton Mifflin Harcourt™, System 44®, Read 180®, Escalate English™, Common Core Code X®, English 3D®, and HMH® are trademarks or registered trademarks of Houghton Mifflin Harcourt.