Boost Your Blended Learning Strategies with Weston
Exclusive Webinar Series! Learn Blended Learning Strategies that Work for Today's Classroom
How can educators bring together the best of old school wisdom and new school technology to enhance instruction and improve student outcomes? Join us for an exclusive webinar series to find out!
In this series, ICLE Senior Fellow and author Weston Kieschnick will explore proven teaching strategies from Bold School. Join the first webinar for an overview. Then, each following webinar will take a deeper look into your choice of blended learning strategies. 
Take advantage of this learning opportunity and register for the webinars today!
Series Kickoff:
Bold School: Old School Wisdom + New School Technology = Blended Learning that Works
When: Thursday, December13, 2018, 4-5 pm ET
In this kickoff webinar, Weston will outline his Bold School Framework for Blended Learning. Join him to explore how high impact teaching strategies can be effectively reimagined with a blended learning lens.
Series Follow Up Sessions:
High Impact Teaching Strategies Through a Bold School Lens
Check back soon for dates!

You decide the topics! Our follow up webinars will take a deeper dive into select high impact teaching strategies, providing actionable insights and examples of how to implement them with HMH resources. Join our series kickoff to vote for the strategies you'd like to learn more about.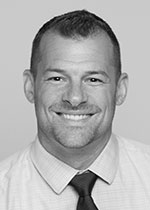 Meet the coach! Weston Kieschnick, of the International Center for Leadership in Education® (ICLE), has elevated student learning and driven change in multiple capacities. Weston began his educational career as a social studies teacher and department chair in Hamilton, Bermuda, where he was a three-time recipient of the public schools' "Most Influential Teacher" award.
Now, Weston shares his expertise to help teachers stay on top of their game and create clear pathways for school and district transformation. An avid blogger and advocate of blended learning experiences, Weston motivates educators to move beyond the ordinary and reach their potential as true innovators for learning.