Build reading stamina and confidence for your students!
HMH® Independent Reading Libraries provide single copies of trade books and leveled readers, including high interest fiction and and non-fiction titles across a variety of topics and genres. The HMH difference is that we offer a tailored library solution unique to your student population.
Here's how it works:
HMH Reading Inventory identifies the reading levels in your district.

HMH experts analyze the data and curate a tailored library solution specifically for you.

Libraries are organized by Lexile® levels for maximum flexibility.
HMH Independent Reading Libraries Are Accessible to All Students
Wide reading resources of "just right" books

Kindergarten contains 250 titles

In Grades 1-5, each library contains 300 titles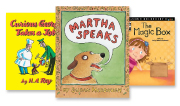 Lexile® is a trademark of MetaMetrics, Inc., and is registered in the United States and abroad. Houghton Mifflin Harcourt™ and HMH® are trademarks or registered trademarks of Houghton
Mifflin Harcourt.